Do-It-Yourself (DIY) Electrical Work Cautions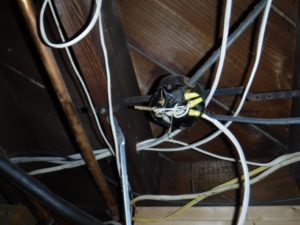 Homeowners should never attempt Do-It-Yourself (DIY) electrical work, unless you already have experience in the electrical field or are a residential electrician.  Electricity is extremely complicated and dangerous. An amateur electrical job may cause poor wire connections, overloaded circuits and faulty grounding, which could be hazardous to the safety of your home and your loved ones. There are many reasons why a homeowner should hire a Kansas City residential electrician like JMC Electric to tackle these home projects.
According to JMC Electric, experienced residential electricians in Kansas City, there are four common services that require a professional.
Circuit breaker upgrades. Electrical panels provide electricity to your whole home. Old breaker boxes can cause flickering lights, blown fuses and even house fires. Hiring a residential electrician to upgrade your circuit breaker panel, especially if you're adding new living space or if your home is older, ensures a safer home. 
Adding outlets, GFCI receptacles, USB ports. A residential electrician can install additional outlets in your home or convert any of the ones you have to GFCIs (ground fault circuit interrupter). Often, electrical code requires that at least one outlet in your bathroom and kitchen is a GFCI outlet, which are designed to shut off power if water comes in contact with the electricity or the load of electricity becomes unbalanced, preventing a shock.  Adding outlets requires cutting into the wall and replacing part of the wiring. Never attempt to do this on your own.
Outdoor lighting. If you want to install ambient or security lighting in the outdoors, you should call in a residential electrician. Most holiday lighting, such as stringing Christmas lights, are done by home owners; however, even this type of lighting project can be difficult and tax your homes electrical system if not done properly. A professional residential electrician has the right equipment and experience to reach tall peaks, test and avoid overloading your home's electrical system,  handle hot tub wiring, and so much more.
Replacing light fixtures.  Many older homes don't have high-temperature insulation, which is required by most ceiling lights and fans. A residential electrician can help you with any of these concerns, which you might not be able to tackle on your own.
Remember, if you are not a residential electrician, you are better off hiring JMC Electric to tackle your home electrical needs. They have been serving residents of Kansas City for over 15 years
Safety is always important FYI electrical projects at home. We are licensed, bonded and insured, and offer a manufacturer's warranty on all parts that we supply. We also offer a 24-hour emergency service. If you are in need of a residential home electrician during the holidays in Kansas City, or any other time of the year, call JMC Electric at (913) 362-2100 or visit our website at https://jmcelectrickc.com/
In business since 2002, JMC Electric offers home, residential and business contractor services in Kansas City and surrounding communities.