JMC Electric "Home Advisor Stellar Ratings"
If you haven't noticed, there are a lot of Home Advisor users that love JMC Electric's home and business electrical services.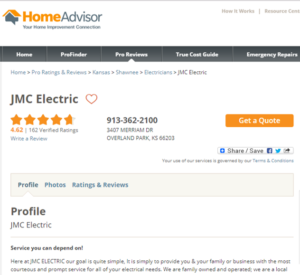 JMC Electric Service you can depend on!
Here at JMC ELECTRIC our goal is quite simple, It is simply to provide you & your family or business with the most courteous and prompt service for all of your electrical needs. We are family owned and operated; we are a local and established electrical service company that has been serving Kansas & Missouri for over 10+ years. JMC Electric specializes in all types of electric work. From a simple outlet repair or replacement to a complete electrical rewire. We are proficient in troubleshooting older wiring systems. If you are looking to add safety and value to your home a service panel upgrade done by JMC Electric will bring you and any future owners peace of mind knowing that all are work is permitted and inspected by city codes and utilities. We also offer a very comprehensive warranty on labor and supplied & installed parts for 90 days; After 90 days we will warranty parts. License, bonded, and insured.
Safety is always important when considering your electrician needs. We are licensed, bonded and insured, and offer a manufacturer's warranty on all parts that we supply. We also offer a 24-hour emergency service. If you are in need of a residential home electrician during any time of the year, call JMC Electric at (913) 362-2100 or visit our website at https://jmcelectrickc.com/
In business since 2002, JMC Electric offers home, residential and business contractor services in Kansas City and surrounding communities.