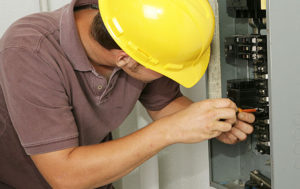 The electrical panel of your home wiring system is its core, as well its link to the outside electrical grid, from where you get all of your electricity. If your electrical panel is unable to support the amount of electricity that you use in your Kansas City home, you could see power outages, and you may be creating a very dangerous situation in your home. The electricians at JMC Electric can help you determine whether your panel needs an upgrade, then we can take care of the job.
Your main electrical panel is most likely a large grey box which is located in your garage or basement, inside of which are several switches. Those switches are your "breakers," and when they "trip," you'll experience an electrical outage until you turn the switch back to on. If your breakers are tripping frequently or repeatedly, call a professional electrician to have your panel inspected.
How to Know When Your Panel Needs an Upgrade
You have "screw-in" style fuses – It's not uncommon for older homes to have these types of panels. When screw-in fuse panels were introduces, they were perfectly fine, but because of the amount of electricity that today's home typically use, they are no longer considered adequate, and you should have them upgraded.
Your breakers trip frequently – Even if you don't have old, screw-in fuses, if you have breakers that frequently trip, lights that constantly flicker, or if you're unable to use multiple major appliances at once, you most likely need your panel upgrades.
Remember: old, outdated panels are more than just an inconvenience. If your panel needs to be upgraded they won't just cause irritating power outages, but could also lead to damaging smoke or to a house fire. Call a professional immediately if you believe you may need to upgrade your panel.
Our Professional Panel Upgrade Technicians
When you need any electrical work done on your Kansas City home, it's very important that you have a professional electrician perform any of it. Electrical work is one thing no amateur should try to attempt on their own. At JMC Electric, our electricians are all licensed, certified professionals with extensive training, so we can guarantee that that you'll be getting the highest quality workmanship at every single job.
Our panel upgrade technicians understand how important your electrical system is to your Kansas City home and your family, and we'll make sure that it's completely safe and totally reliable. We'll do whatever it takes to make sure that your electrical panel can handle the amount of electricity that your home regularly uses.
We also know that panel upgrades can take time, and that they can be a major interruption is your daily life. So our professionals will work to get the job done as quickly as possible, but we'll never let the speediness of the job get in the way of quality workmanship.
In business since 2002, JMC Electric offers home, residential and business electrician services in Kansas City and surrounding communities. 
Contact JMC Electric at 913-362-2100 or (816) 298-0100 for a free estimate on your Electrical Panel upgrade needs today.