Residential Ceiling Fan Installation Design Trends For 2022
Residential ceiling fan installation from JMC Electric will help you run your air conditioner less this summer. A ceiling fan increases your home value and reduces your energy costs year-round, but you will feel the benefits the most when the weather gets hot.
A wide variety of designs are available to suit any decor, with or without added lighting. A visually and functionally balanced room should have multiple layers of ambient, task, and accent lighting. A ceiling fan with a decorative light fixture can be the cherry on top of a well-designed room. Read on to see what is trending this year!
Vintage And Traditional
Modern and minimalist are officially out. Cottagecore has fully taken the design world, and along with the floral prints and crocheted everything, we are seeing a return to more ornate traditional styles for residential ceiling fan installation. Natural tones like rich brown wood patinaed vintage metallics are on-trend materials that will complement more traditional designs.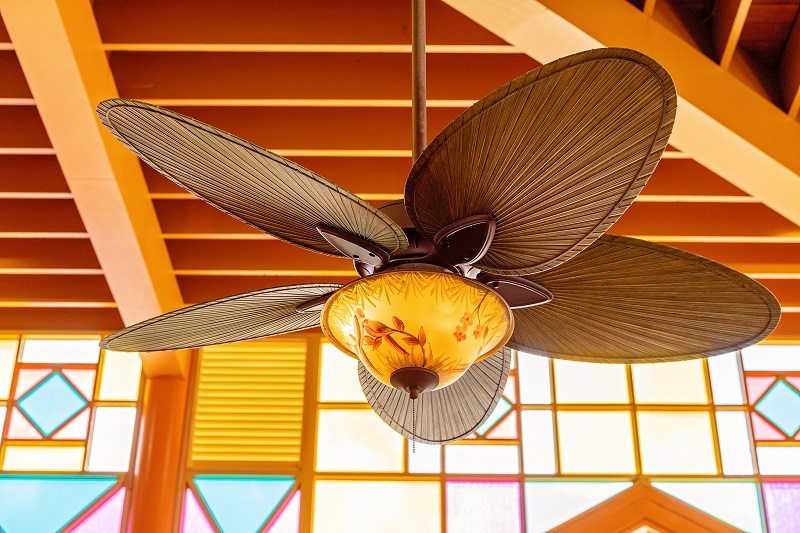 Organic Shapes
The sharp lines of modern and minimalist designs are out, and curved, organic shapes are in. Softer edges with graceful, flowing blade designs fit into the nature-inspired art nouveau aesthetic that is currently in vogue.
See-Through Blades
Between the Roaring 20s art deco revival and 90s nostalgia, clear and translucent blades are all the rage. Crystal clear blades paired with silver or gold housings and textured or fluted glass lighting covers hint at glamour and excess, while brightly colored or white housing and more modern lighting tap into more recent nostalgia.
More Is More
One big trend is larger fan blades. In rooms with adequate space, we are going well beyond the standard 60-inch fan. These giant fans make a statement as cool as their breeze, but you will definitely need residential ceiling fan installation from a professional as these big guys are too heavy to install by yourself. Where an oversized fan won't fit, a fan with two or three times as many blades is another way to go big.
The Latest Tech
Smart Home integration is gaining popularity. Many new designs allow you to control your ceiling fan through Google Home, Alexa, or your smartphone. Alongside features such as LED lighting, that constant control adds up to more energy savings. Retractable blades are another high-tech option gaining popularity.
Residential Ceiling Fan Installation From JMC Electric
Whatever style you choose, ceiling fan installation from JMC Electric will save you money. Well circulating air maintains a more consistent temperature, so a ceiling fan allows your furnace and air conditioner to cycle on and off less frequently, saving both energy costs and wear and tear on your HVAC. 
Improper installation of your ceiling fan can have negative consequences. Without a professional electrician, you may run into complications with the wiring or issues hooking up the wall-mounted switches that control the fan. Keep in mind that attempting to do any electrical work always carries the risk of electrocution if not done properly.
Professional fan installers go through height and electrical safety training, which allows them to learn and practice working with electricity and at heights. Ceiling fan installation is best done by professionals like JMC Electric.
For more information about professional ceiling fan installation in Kansas City, call JMC Electric at (913) 362-2100 or (816) 298-0100. To request a free, no-obligation quote, click here.