Residential Electrical Outlets Can Be Installed By JMC Electric
Residential electrical outlet Kansas City with JMC Electric offers different types of outlets for your home. Whether you are upgrading outlets, designing a new home, or building a new home, JMC Electric can help you pick from the many types of outlets available to make your home exactly how you'd like it.
Chances are you know about smart outlets and outlets with integrated USB ports, but you might be surprised at how many different outlets you can buy and install in your home. Of course, they're all built for different situations, and you want to be sure your house is equipped with the correct outlet for the job. JMC Electric can help you with their expertise in residential electrical outlet Kansas City to make sure they're right for your home.
A ground fault circuit interrupter, or GFCI for short, is meant to quickly shut off an outlet's power when it detects a short circuit or ground fault. Normal electrical flow happens when the current comes through the hot wire and returns back through the neutral wire, but if electricity flows beyond that, the GFCI outlet will trip.
For example, if you're using a faulty hair dryer, for example, and your feet are wet, a short circuit from the hair dryer can cause the current to pass through you, to your wet feet, and into the ground, electrocuting you. A GFCI outlet kills power before the current can remotely escape the hair dryer. Understandably, these outlets are pretty much guaranteed to be found in houses nearby water sources.  
GFCI outlets are typically more expensive than regular outlets but are required to be installed in locations such as kitchens and bathrooms.
Though it's not as well-known as a GFCI outlet, an AFCI outlet looks very similar. Short for "arc fault circuit interrupter," it protects from arcs, which happen when electricity jumps from one wire to another, which can result in a fire.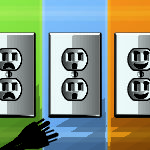 Any modern house built after 1999 should have AFCI circuit breakers installed at the circuit breaker box. If you live in an older house, JMC Electriccan install the residential electrical outlet Kansas City at the beginning of every circuit, which will protect all outlets following in that circuit. If you're looking to control the power of an outlet by turning it on and off whenever you want, go for a switched outlet. It's a receptacle that includes one outlet, and a switch that turns it on and off. This is suitable if you have something plugged into an outlet, but you don't want it on the entire time.
By now, most of us wish outlets with integrated USB ports would come standard in all houses. How convenient would that be? However, they're difficult to find and are rarely installed by default in modern homes. There are a variety of USB-equipped outlets available. A popular go-to option are the ones that still come with two regular outlet receptacle but squeeze in two USB ports for charging your mobile devices. You can also find one that replaces both receptacles with four USB ports. Both outlets can charge your devices up to 4 amps, so your mobile devices can charge at full speed.
If you want to take things to a completely new level, smart outlets are the way to go. They're like regular outlets but can be controlled from your smartphone. This means they can be turned on and off from just about anywhere.
JMC Electric's Kansas City electricians are focused on getting the job done right the first time. The job is not done until you are 100% satisfied. We provide excellent customer service and strive to provide the best communication throughout your entire electrical project.
For more information about residential electrical outlet Kansas City, call JMC Electric at (913) 362-2100 or (816) 298-0100. To request a free, no-obligation quote, click here.