How Can Residential Ceiling Fan Installation In Kansas City Save You Money?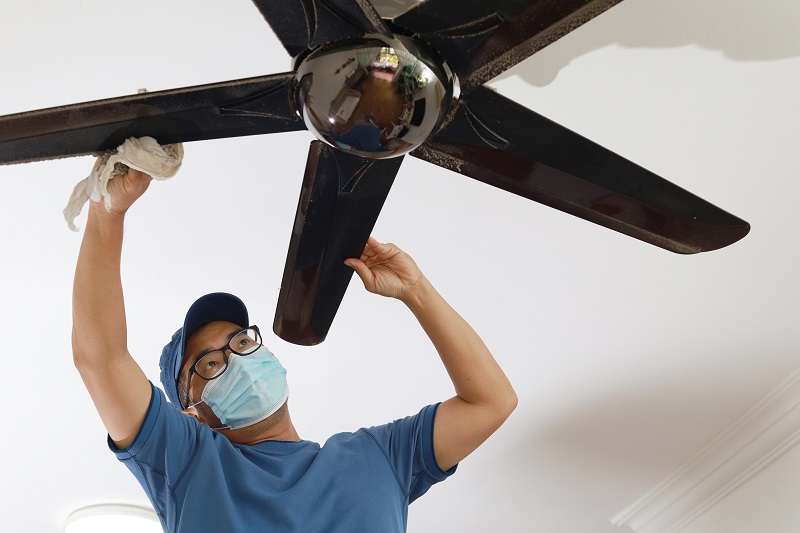 Residential ceiling fan installation in Kansas City from JMC Electric can save you money by allowing you to run your air conditioner less this summer. A ceiling fan increases your home value and reduces your energy costs year-round, but your wallet will see the biggest value when the temperatures rise. 
Residential ceiling fan installation in Kansas City is an excellent way to help keep air conditioning bills down while staying comfortable in the heat. During milder weather, the "wind chill" effect of a ceiling fan helps keep you cool without running the air conditioner. Moving air speeds the evaporation of sweat from the skin, dissipating heat and making you feel cooler. A ceiling fan can bring down the ambient temperature of a room by as much as four or five degrees.
Most new ceiling fans can be set to spin in either direction. The fan should be set to blow downward in the summer to maximize the cooling effect. Because hot air rises, the airflow should be reversed to pull cooler air up in winter, pushing the warm air back down into the room. Well circulating air maintains a more consistent temperature, so residential ceiling fan installation allows your furnace and air conditioner to cycle on and off less frequently, saving both energy costs and wear and tear of your HVAC.
Fans also save on energy costs when used along with the air conditioner. The air conditioner thermostat can be set slightly higher while maintaining the same degree of comfort because of the cooling effect of the moving air. An increase of only 2° F can result in up to 15% reduction in air conditioning energy use, with minimal cost for running the ceiling fan. Residential ceiling fan installation in Kansas City also helps the air conditioner run more efficiently by circulating the cool air, keeping the temperature consistent throughout the space.
In addition to the savings, residential ceiling fan installation can add a fresh look to your room. A wide variety of designs are available to suit any decor, with or without added lighting. A visually and functionally balanced room should have multiple layers of ambient, task, and accent lighting. A ceiling fan with a decorative light fixture can be the cherry on top of a well-designed room.
Electrical work always carries the risk of electrocution if not done properly, and wiring issues can be complicated. It is unlikely that a ceiling fan installation will turn into a large electrical job, which means that professional installation will be relatively inexpensive. It just makes good sense to trust the professional electricians at JMC Electric to take the danger and difficulty out of your residential ceiling fan installation in Kansas City. 
For more information about residential ceiling fan installation in Kansas City, call JMC Electric at (913) 362-2100. To receive a quote, click here.