Residential Electrical Outlet Placement In Remodeling Projects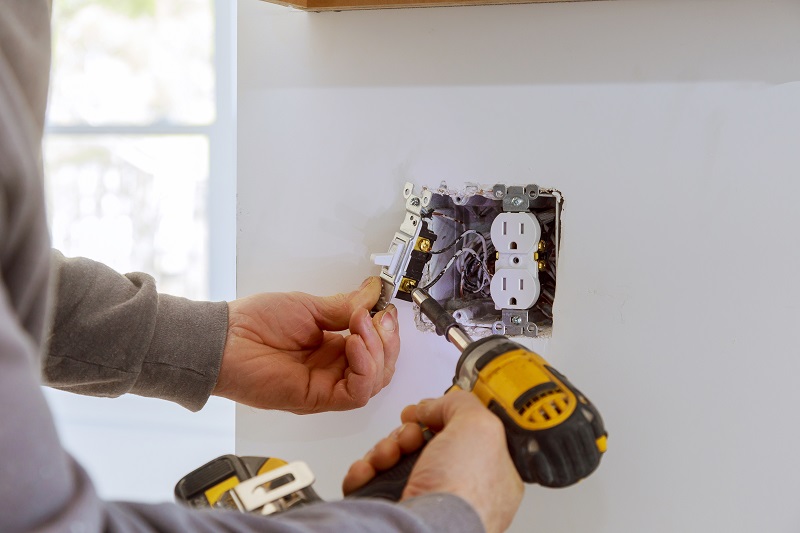 When deciding where to place a residential electrical outlet in your Kansas City remodeling project, there are a few things to consider. Failure to plan ahead often results in the use of messy extension cords and power bars, or even overloading your electrical system. It is important to think about the room you are remodeling and what equipment you might eventually want to use in it. Kansas City building codes determine the minimum number and general location of electrical outlets in your home, but you can add as many as your electrical panel permits.
Kitchen
The most important consideration in the kitchen is to put higher amperage outlets everywhere you might want to place your refrigerator and microwave in the future. You will want plugs all around your island or counters to allow for your toaster, coffee maker, and other small electrical appliances. You may also want to put outlets under your cabinets for LED lighting.
Bathroom
Any residential electrical outlet used near water must have a Ground Fault Circuit Interrupter (GFCI) to protect from electrical shocks. Stretching cords across the sink is dangerous, so outlets should be placed close to everywhere appliances will be used.
Bedroom
The first step in determining outlet placement for your Kansas City bedroom is to decide where you want the bed, as well as anywhere you might want to move it to in the future. Place the outlets where the nightstands will go. Outlets with built in USB ports for charging stations are convenient here. Then consider what other devices you may want to plug in such as a TV, alarm clock, fan, and vacuum cleaner, and place your outlets accordingly.
Living Room/Family Room
The living room or family room is another place you are likely to need charging stations, so consider built in USB ports here, as well. It is always a good idea to place a residential electrical outlet in every corner as well as in the center of each wall. This way, however you arrange the room, you will have easy access for all of your appliances and devices. If you will be wall mounting a flat screen TV, be sure to place an outlet directly behind it so the cords can stay hidden.
Home Office
Placing outlets slightly above desk height in your home office eliminates the need to crawl around on the floor to plug in your equipment. Consider the potential placement of each piece of office equipment. Putting your computer equipment on a dedicated circuit is advisable.
JMC Electric can place the right residential electrical outlet for your needs anywhere you need it. When you have a remodeling project in the Kansas City area, we are here to help. Call (913) 362-2100 / (816) 298-0100 or click here to request a free, no obligation quote.