Residential Home Electricians JMC Electric Offer Many Types Of Services
Residential home electrician company JMC Electric in Kansas City offers many different types of services for your home. They include electrical services that include panels, switches, troubleshooting, remodel wiring, exterior electrical work, and more. Let the professionals at JMC Electric do the work for you, while you stay safe.
Working with local families and homeowners in Kansas City is one of JMC Electric's favorite aspects of the business. We're proud to have provided expert residential home electrician services since 2002 to the Kansas City metropolitan area. Our fully licensed and insured electricians take pride in their work and customer service. Through our extensive residential electrical knowledge, we are able to provide quality workmanship at competitive rates with a full guarantee on work and the manufacturer's guarantee on parts.
Services also done by JMC Electric include:
Ceiling Fans –
 At 
JMC Electric
, we can assist you with adding, repairing, replacing or even removing a ceiling fan in Kansas City. A 
ceiling fan redo
is an inexpensive way to add a new look to your home or interior design project. Without a professional residential home electrician to help you in your attempt to install a ceiling fan, you may run into complications with the wiring, or even issues hooking up the wall-mounted switches that control the fan.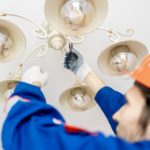 Light Fixtures – There are many designs and types of lighting to choose from. We have different lighting designs to suit every personality. If you are remodeling your home, lighting is one of the most important decisions. Everything looks better with well-designed lighting. We can also outfit your Kansas City residential lighting with various dimmers, sensors, timers, and other components for the better control and energy efficiency.
Electrical Outlets – JMC Electric offers electrical installation and repairs of all types of sockets, switches, outlets, dimmer switches and more. There are many different types of switches for your lighting, dimmer switches, standard flip switches with many different styles and even electronic remote-control switches. Our Kansas City electrical outlet repair experts able to repair, install and even help you pick out outlets and switches that best suit your home's needs.
New Construction Custom Wiring – JMC Electric offers design services for new residential home construction projects.  Our team of highly skilled electrical engineers work with clients to design lighting systems that encompasses their style and budget. 
Other services include panel upgrades, expert troubleshooting electricians, storm damage and repairs, design and build electrical solutions, 220-Volt circuits, hot tubs wired, and more.
For more information about residential home electrician company JMC Electric, call (913) 362-2100 or (816) 295-0100. To request a quote from JMC Electric, click here.