Residential Electrical Panel Replacement Requires A Licensed Professional
Replacement of a residential electrical panel can be extremely dangerous to attempt if you aren't completely sure of what you're doing, and these systems should only ever be worked on by licensed professionals. Old breaker boxes can cause flickering lights, blown fuses and even house fires. Homeowners should never attempt Do-It-Yourself (DIY) electrical work, however, unless you are already certified in the electrical field or are a residential electrician. Hiring a licensed electrician to upgrade your residential electrical panel, especially if you're adding new living space or if your home is older, ensures a safer home.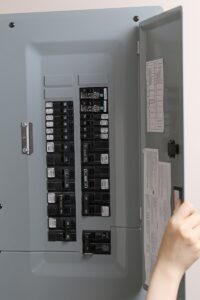 Do you need a new residential electrical panel?
If you live in an older home and your wiring has not been replaced in recent years, there's a strong chance that you need to have your home rewired and your residential electrical panel replaced. Homes built even as recently as the 1980's may have been wired in a way that is not up to today's standards. Because modern homes use more electricity than ever before, the electrical needs of most homes have grown a tremendous amount in the past ten to fifteen years.
If your home's wiring is out of date, it simply won't be able to handle the amount of electricity that you and your family likely use. This can cause the wires to deteriorate, and that can lead to very serious problems. You may begin noticing smaller, irritating problems like blown fuses before more dangerous problems begin to develop. Plus, if you're considering selling your home at any time, older wiring will not pass necessary inspections.
Why do you need a licensed electrician?
The electrical panel is the core of your wiring system, and its link to the city electrical grid that all of your electricity is drawn from. This makes it extremely dangerous to work with without proper training. Even if you aren't injured while attempting to fix your own wiring, very small mistakes could mean huge problems for your home.
Electricity is extremely complicated and dangerous. An amateur electrical job may cause poor wire connections, overloaded circuits and faulty grounding, which could be hazardous to the safety of your home and your loved ones. In fact, the National Fire Protection Agency names faulty electrical wiring as the number one cause of house fires in the United States. 
All of the electricians at JMC Electric are licensed professionals with extensive technical training, so we can guarantee your satisfaction with all of the work that we provide. We also guarantee that any of the wiring work we provide will be completely up to local codes and standards of the Kansas City area. 
For more information about residential electrical panel replacement and other services JMC Electric offers, call (913) 362-2100 or (816) 298-0100. To request a free, no-obligation quote, click here.