Residential Electrical Wiring In Kansas City Is Best Performed By Professional Electricians
Residential electrical wiring Kansas City is available with professionals JMC Electric. If you are building a new residential property in the Kansas City area, JMC Electric is the electrical contractor you can rely on for all your electrical service and installation needs. Hiring a professional electrician is always in your best interest.
On-the-job safety is one reason to use a professional electrician if you're thinking that dealing with electrical wiring is as easy. Electricians need to wear safety equipment to make sure that they are not electrocuted when doing repairs, inspections, or upgrades. It's also very dangerous for someone who has little knowledge of electricity to do such repairs, especially for residential electrical wiring Kansas City. 
Another good reason that should keep homeowners from Do-It-Yourself residential electrical wiring Kansas City repair is getting the job done right. It may seem easy on paper but when you're actually doing it, you'll quickly realize that doing electrical repairs is harder than it looks. JMC Electric has a proven track record of serving the residential electrical needs of customers throughout Kansas City, and the surrounding areas.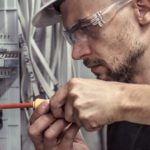 Electricians are masters in their craft – when you think of it, electricians are required to train and undergo special examinations that make them ready for real-world jobs. This basically means electricians, in general, are quite capable of handling electrical tasks regardless of the size of the job. For residential electrical wiring Kansas City applications, electricians can handle any type of electrical repair or upgrade.
Professionals electricians like JMC Electric guarantees their work – when electricians carry out tasks, they usually have guarantees for their work. This ensures quality and great workmanship every single time, and JMC Electric's motto is "Quality is our Habit." JMC Electric is accredited by the Better Business Bureau and has several awards for quality and longevity from Home Advisor.
JMC Electric is dedicated to providing prompt, courteous, and professional service at competitive pricing. We offer a wide variety of affordable residential and commercial electrical services, as well as industrial system design and installation. Here's a quick glance of our services; please click on the appropriate tab for a more detailed list of services offered:
· Residential Electrical Services Kansas City
· Commercial Electrician Services
· Industrial Controls
· Circuit Breakers
· Electrical Panel Upgrades
· All Electrical Troubleshooting Related Services
For more information about residential electrical wiring Kansas City and other services JMC Electric offers, call (913) 362-2100 or (816) 298-0100. To request a free, no-obligation quote, click here.