Residential Home Electrician In Kansas City JMC Electric
Residential home electrician in Kansas City JMC Electric was founded in 2002 as a one-man endeavor and grew into a family business. Our owner and founder is a licensed master electrician with 25 years of experience and today we have several skilled technicians, managers, and support staff.  The team focuses on the electrical service and repair side, providing quality professional electrical services to the Kansas City metropolitan area.
A Residential Home Electrician In Kansas City
Our owner is Kansas City-born and raised, and his parents were KC natives as well. His father was in the business of installing fire suppression equipment in kitchens, hotels, and other commercial facilities, and his mother was a full-time homemaker. His primary interests growing up were building things and helping people. Owning and operating JMC Electric has put those passions to work over the past twenty years in the community working with families as well as industrial and commercial companies.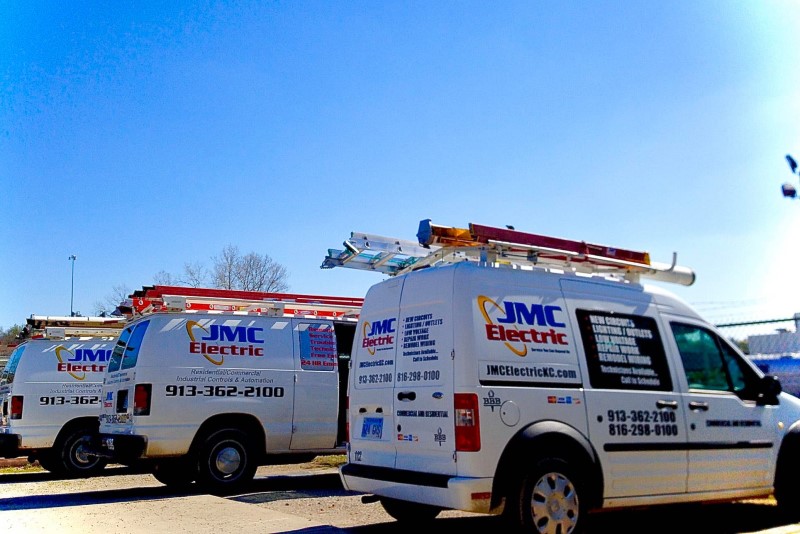 Is A Residential Home Electrician Really Necessary?
As a Kansas City homeowner, you need electrical tasks done right the first time because faulty installation or repair could be disastrous to your home and your wallet. The most important reason to hire a professional residential home electrician in Kansas City is safety. Accidental electrocution can cause serious injury, costing thousands in medical bills, or even death. Beyond the installation, faulty wiring is a common source of house fires. The safety of your home and family is worth so much more than a few bucks shaved off the top by not hiring a licensed professional.
Value is always important when considering whether to hire a residential home electrician in Kansas City. A skilled professional can advise you on products and parts that will save you money on energy bills and repairs down the road. Hiring a professional also minimizes the risk of expensive structural or cosmetic damage to your Kansas City home during installation or repair. 
Trust JMC Electric, Your Electrician In Kansas City
JMC Electric is accredited by the Better Business Bureau, and we have earned several awards for quality and longevity from Home Advisor. JMC Electric is proud of our high standards of excellence and offers guarantees on all of our services. We are licensed, bonded and insured, and offer a manufacturer's warranty on all parts that we supply. We also offer 24-hour emergency service.
At JMC Electric, we are dedicated to providing prompt, courteous, and professional service at competitive pricing. We offer a wide variety of affordable commercial and residential electrical services, as well as industrial system design and installation.
Our services include but are not limited to:
Residential Electrical Services
Commercial Electrician Services
Industrial Controls
Circuit Breakers
Electrical Panel Upgrades
All Electrical Troubleshooting Related Services
Whatever your residential home electrician needs may be, JMC Electric has the skills and experience to get the job done safely and cost-effectively anywhere in the Kansas City metro area. For more information, call (913) 362-2100 or (816) 298-0100, or click here to request a free, no-obligation quote.