Residential Ceiling Fan Installation And Services From JMC Electric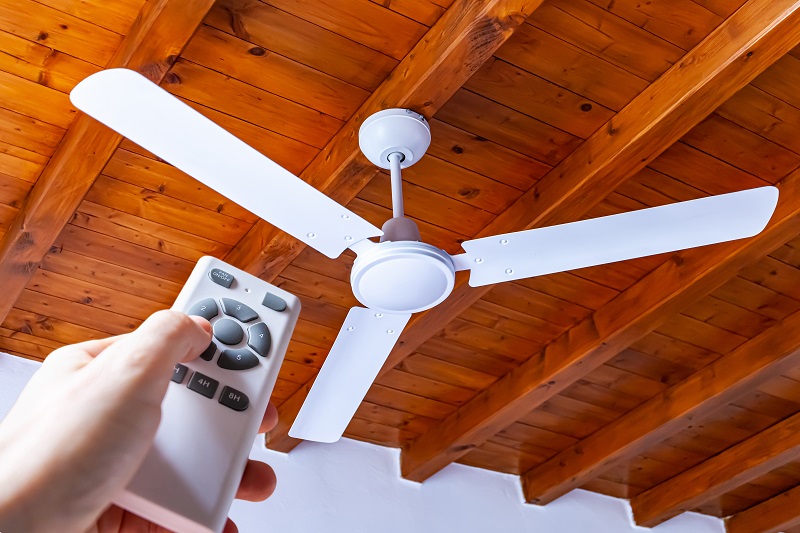 Residential ceiling fan installation, repair, and consultations are available throughout the Kansas City metro area from JMC Electric. Installing a ceiling fan can save you big money over time while adding to the design of your home. Improper wiring of your ceiling fan can have negative consequences, however. 
Keep in mind that attempting to do any electrical work always carries the risk of electrocution if not done properly. Professional fan installers go through height and electrical safety training, which allows them to learn and practice working with electricity and at heights.
The certified and bonded electricians at JMC offer these detailed ceiling fan services:
Ceiling Fan Repair: If you have a ceiling fan that is wobbling or not working properly, our licensed home electricians can take care of that in a jiffy. Whether it is simple balancing or a motor repair, we can handle it.
Residential Ceiling Fan Installation: A ceiling fan increases your home value and reduces your energy costs all year long! While this may seem like a good DIY project, you may run into complications with the wiring or issues hooking up the wall-mounted switches that control the fan, so it is best to bring in a professional.
Ceiling Fan Consultations: Not sure where to place a ceiling fan or what type to get? Our experts can help you with all the decisions necessary to get the most out of your ceiling fan.
Designer Ceiling Fans: Adding or replacing a ceiling fan is an inexpensive way to add a new look to your home or interior design project. A wide variety of designs are available to suit any decor, with or without added lighting.
Ceiling Fan Light Installation: A visually and functionally balanced room should have multiple layers of ambient, task, and accent lighting. A ceiling fan with a decorative light fixture can be the cherry on top of a well-designed room.
Outdoor Ceiling Fans: Enjoy your outdoor living space more! A ceiling fan can keep your outdoor room cool and comfortable all summer long.
Ceiling Fan Wiring: One of the most challenging parts of residential ceiling fan installation is correctly connecting the wires. Incorrect wiring can be extremely dangerous and even cause a house fire. JMC Electric will make sure that your ceiling fan is wired correctly.
Modern Ceiling Fans: Many new designs allow you to control your ceiling fan through Google Home, Alexa, or your smartphone. Retractable blades are another modern option gaining popularity.
Bedroom Ceiling Fans: A ceiling fan can help keep your little oasis comfy in all weather. Well circulating air maintains a more consistent temperature, so a ceiling fan allows your furnace and air conditioner to cycle on and off less frequently, saving on both energy costs and wear and tear of your HVAC.
For more information about residential ceiling fan installation in Kansas City, call JMC Electric at (913) 362-2100. To request a free, no-obligation quote, click here.